If you are visiting my site for the first time, welcome! Many of you may have linked from the
Made by Rae Spring Top contest
. Don't forget to vote before tomorrow night, mine is TOP J in the Top 10! And some of you may have found my ruffle top on the Sew, Mama, Sew! Blog. Feel free to leave a comment to let me know you stopped by :-)

My favorite new top isn't the only exciting news in my life....
Yesterday Curt picked up my new sewing machine from the local sewing shop. I've only been looking for a year now.. haha. After looking around the internet and asking other sewers, I made an impulse decision to buy the Janome 6260 Quilter's Companion. I haven't used it a whole lot yet (I had to work last night) but so far I love it.
I've been working on my Oh, Fransson Quilt-Along sampler quilt and it will be my first quilting project on my new machine. The highlight of my life: the ability to free motion quilt, finally! That was the #1 reason I needed a new machine, besides the fact that my old one is a Brother low-end starter model that I got for my 19th birthday. My parents didn't think I'd stick with sewing, so they didn't want to invest in anything expensive. Somehow I've been sewing with that and managed a few quilts, but now I feel like my possibilities are endless.
Tonight I'm going to start cutting fabric for my sister's birthday quilt. I gave her the choice of a bag, a quilt, or something else I could make her, and she choose a quilt. I would have too. So per her request, a pink, orange, yellow & white quilt based on Denyse Schmidt's Hop, Skip & Jump quilt. I don't have the pattern, but I was planning on winging it anyway a~la Kathy's baby quilt at Pink Chalk Studio.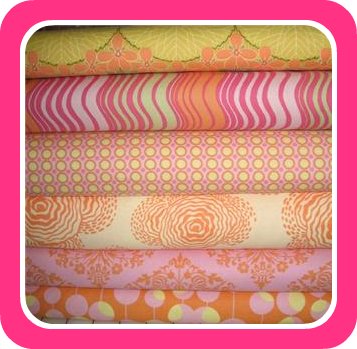 Now I just have to double check my math and get cutting - pictures to come. I ordered a bunch of different Amy Butler Midwest Modern 2 prints in the color scheme to throw in with my stash of pink Midwest Modern prints left from this quilt. Plus I'll probably add some random scraps from Heather Bailey for good measure.
Wow, how exciting! I'm going to get to work right away.