I am an avid iPhone user. I didn't think I'd like it at first, but now I can't be without it. Ever. My sister got an iPhone this weekend and I told her I would send her a list of my favorite apps, but then I thought - why not share it with the list of you too?! So let's jump right in:
Twitter: I'm addicted. I especially like to use it to keep up with my crafting tweeps and it's my main source of news. There are a lot of fun people to meet on Twitter and there's always something new to read. Follow me
@bdanderson
.
Angry Birds: I have all three purchased versions because I can't get enough. The levels are updated, I never run out of pigs to smash, and you can play it anytime, anywhere. Definitely worth the $0.99!
Instagram: This is a photo taking/editing/sharing app that makes really beautiful photos. In my opinion the interface is really simple and there's no need to pay for other photo editing apps. The added bonus of Instagram is that it can upload your images to your profiles on Flickr, Tumblr, Facebook, Twitter and more! You can find me on Instagram as bdanderson.
Pocket Frogs: This is a really silly game where you breed frogs to unlock new species as you level up. I know it sounds kind of lame, but it's pretty entertaining plus you can trade frogs with friends and there are different goals and collections to reach. Find my frogs under my Plus+ ID - inaudiblefall and my friend Moriah at mjcoxen.
Words with Friends: a virtual twist on the classic Scrabble game, play with friends, play with strangers, play with the person sitting next to you who doesn't have an iPhone. Challenge me - bdanderson.
Yelp: Also a very valuable website, the Yelp app is a lifesaver when you aren't sure what you want for dinner and no one seems to have any ideas. I love using it to review not only restaurants, but dentists, mechanics, nail salons - just about anything. I don't know my username but maybe you can find me as Brittney A. On a side note, I also have Four Square but I find myself using Yelp way more because the reviews are significantly better.
IMDb: I use this app multiple times a day. You know when you're watching TV and you can't figure out who that girl is or what she's from? Fret no more - the answer is just an app away. You can also watch previews, read entertainment news, check out reviews .. it's a great little app.
Wikipanion: I think Wikipedia has it's own app, but I've been using Wikipanion for a long time now and I love it for the same reason as the app above. Can't remember what year the Red Wings won the Stanley Cup (it's been too long!), who was the president in 1931 (Hoover), or what was the story line of the fourth Harry Potter movie (Triwizard Tournament, duh)? Wikipanion will give you your answer.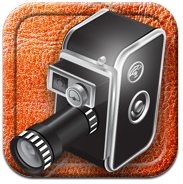 8mm: This one is not free, but it's worth the dollar or two it costs. 8mm takes old fashioned video from your iPhone to make fun, nostalgic videos. It's simple to use and has a handful of different filters and effects. Here are two videos I shot with 8mm:
Spring
and
Inchworm
iHome + Sleep: This is an alarm clock app intended to work with iHome's alarm clock speaker sets, but you don't need the speakers to use the app. Curt has the speakers and they work seamlessly together, but I just use the app on my iPhone only and it works great. You can wake and sleep to your iPod library, plus it tracks your sleeping habits, which is pretty cool. A little tip for use: make sure your iPhone is plugged in and keep the app open when you go to sleep so there's no scrambling in the morning to hit the snooze. Also, there seems to be a bit of a glitch when you update your phone, so after you do that, be sure to reset your alarm songs otherwise you might sleep through a silent alarm. Not sure why they haven't fixed that yet, but the great thing about apps is that they evolve on a regular basis.
I have many more apps than these, but I guess you could call these my desert island apps. Other highlights include Facebook, The Weather Channel, E! Online, and Pandora. I prefer the Weather Channel app over the Weather app that comes preloaded because it has tons more forecast information plus severe weather updates.
I have a few craft apps, but I never use them and they aren't very helpful. That's not true- one of them is a stitch counter for knitting and crocheting, and I do use that when I'm working on a project.
What about you? What are your favorite apps? Any great ones that I missed?