This was a gloriously long weekend with plenty of time to work on finishing my quilts. I've been quilting them for the past week, practicing first on a couple pillow fronts and then taking the dive into actual quilts. This was my first time quilting ever, thanks to my new Janome 6260QC. I love, love, love it. The free motion was such a cinch, felt like I've been doing it all my life. So I practiced on the pillows, then moved onto my Mod Sampler Quilt. I figured I could do an okay job on mine so when it came time to do my sister's quilt, hers would be a step above okay.
The good news is it worked, and I'm completely satisfied with how the quilting on both quilts turned out. And now onto some photos:
Brianna's 20th birthday quilt. She requested a stripy quilt with pink and orange fabrics. So hello, of course, Amy Butler Midwest Modern. I had some pink stuff left from this quilt, and I ordered the rest from eBay. I used Kona White sashing. The finished size is approximately 50" X 60". I made 12 huge blocks that had 8 stripes each (4 white, 4 colored) and then put them all together. It was one of the fastest quilt tops ever!
I was inspired by the Denyse Schmidt Hop, Skip & Jump quilt, but decided to go at it myself. As scrappy and random as it may look, I planned and planned and planned for this quilt. And even then, somehow my plans got a little messed up. But luckily the scrappiness of the quilt lends to easily fixing mistakes, and fix I did. My dad, ever the mathematician, will probably be the only other one to notice my mix up.
I also made a matching patchwork pillow to go with her quilt, but sorry, no pictures yet. She doesn't know about the pillow, so that will be a nice surprise.
I also made a pillow to match my Mod Sampler Quilt with leftover scraps.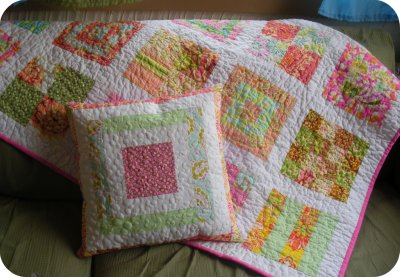 I just love the way my Mod Sampler turned out, so bright and cheery, perfect for my couch this spring. I don't have any full pictures of it yet, it was rainy today when I finished the binding. (On a side note, two quilts worth of binding to sew on by hand = very sore fingers!)
I used a mix of Amy Butler and Heather Bailey fabrics with Sugar Snap on the back. The sashing is Kona Snow, the binding is a plain pink, the same I used on my sister's quilt. This is the first time I used plain binding and I like the simplicity it brings to an otherwise busy quilt. My husband appreciated the balance the white sashing brought to the colorful blocks. I swear if he were to design a quilt, it would be all solids, maybe 3 colors. I should ask him to design a quilt, just to see what he would come up with.
Now, because I love to see quilts all cuddly and crinkly:

Alright, time to watch Jon & Kate battle it out on the season premiere. I think I might grab some knitting to keep my fingers busy...