Yesterday I went to a local gift shop and snuck a peak at their Vera Bradley merchandise. My sister wants a little zip pouch to old her ID like this so of course I can make that, right? I figured out most of it, but I just couldn't get my head around how the ID would go in there with the lining, etc etc.. my brain was in pain. So I went to the store to look at it and figured it out, then came home and made it. It was difficult to work at some points, but I think it turned out very cute: 
Yes, I blurred out my dorky student ID. It will be replaced by my sister's dorky student ID. I love that fabric, I got it from the scrap pile at Joann's and haven't been able to find anymore of it. All I have left is a little teensy bit and I will have to use it wisely. Luckily this little pouch doesn't use much at all-- maybe I will make one for myself. 
I also stopped at the library and picked up a bunch of knitting books hoping to be inspired. My selection included a few Debbie Bliss books, Sexy Little Knits, a sock book, and most inspiring, Simple Sewing by Lotta Jansdotter. I love this book, it has so many different kinds of projects in it and the pictures are beautiful. 
Oh, and Simple Sewing with a French Twist. This one, I don't like so much - I can't put my finger on what exactly I didn't like, because the pictures are nice, the layout is interesting. I think it was the lack of proper instructions or something. I don't know, but I do know I won't be making any projects out of that one. 
As for the Sexy Little Knits, it struck my interest because it's by Ashley Paige, who is so terrible I love her. She just got a new show on TLC and it cracked me up last week. The projects in this book are literally both sexy and little... very little! I wouldn't be caught dead wearing those in public. I'd be embarrassed to wear them around my husband. People on Ravelry said the patterns have lots of mistakes and requires specialty yarns that aren't readily available. The only good thing I got out of the book was a cute hairstyle from one of the models. I'm considering bands.. not side swept like I have now, but straight-up bangs. I let my hair go wavy in the summer, so cute hippy bangs add to the look. At least I think so.
While I have yet to knit anything out of those books, I do have 2 simultaneous WIPs that need a little TLC. First, socks from my new Imagination yarn from Knit Picks. I love this yarn! The colors are fabulous and it knits up quite soft. I have one sock done and one to go.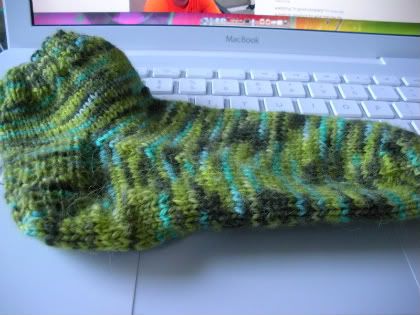 I also have my first colorwork project halfway done. I used the Herringbone Mitts pattern with Knit Picks Palette, new colors that came along with the Imagination yarn. I am using size 2 needles and the yarn is fingering weight, which is smaller than the pattern calls for. To make up for the difference I am knitting the Medium size, which fits me like a glove. :-)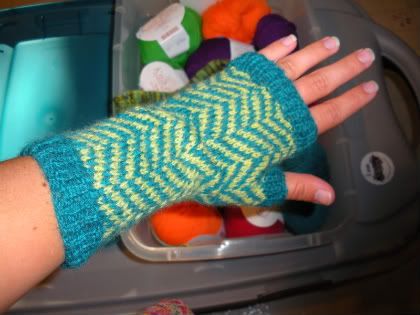 Now it's time for dinner, I'm thinking frozen pasta cooked up in the microwave. Does that sound lazy and disgusting or what? But I'm hoping I'll be pleasantly surprised and satisfied. It is always delicious over the stove, the microwave can't be that bad, right? Right?